building a still.
summertime and people pulling themselves apart thread by thread.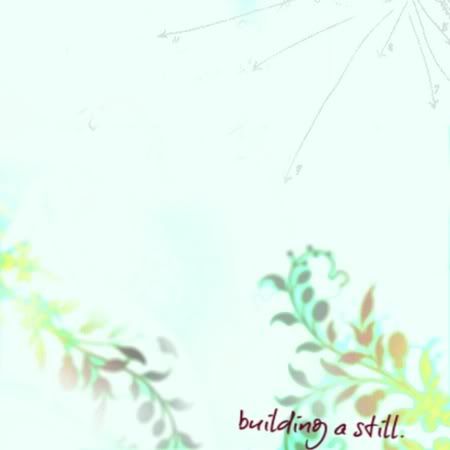 one. woodpigeon: oberkampf
call it off
tell me why you lied from the start
should have known I'm right
missed your stop but I don't mind
moving on away.

two. bon iver: woods
I'm up in the woods
I'm down on my mind
I'm building a still
to slow down the time.

three. wintersleep: dead letter and the infinite yes
and my therapist said
"we've evolved through a series of accidents."
there's been talk of chemical imbalances
restless sense of detachment, nausea, and or violence.

four. ghostland observatory: sad sad city
outer space, it's a lovely place
a long lost love in a flower vase
lying on the floor shattered, battered, and bruised
and I, I need you to want me, to hold me, to tell me the truth
ain't no party in a sad, sad city.

five. bon iver: skinny love
come on, skinny love, just last the year
pour a little salt
we were never here
my, my, my
staring at the sink of blood and crushed veneer

six. our lady peace: sorry
today we carry each other
today the past is a freak
today's a time for forgiveness
but you were never that good to me.

seven. stars: your ex-lover is dead (final fantasy)
there's one thing I have to say, so I'll be brave
you were what I wanted
I gave what I gave
I'm not sorry I met you
I'm not sorry it's over
I'm not sorry there's nothing to save.

eight. sam phillips: all night
you're all around but I haven't found you
you're coming in right through my skin
oh comrade, what do you need?
where will all this trouble lead?

nine. the unicorns: peach moon
sun-smudged peach moon
softer than an ice cream cone in June
and why is it that thunder purrs so strikingly at night?


zip
Current Mood:

blank